Guardians of the Heart
(Secrets on Sterling Street, #2)
by Loree Lough
Historical Romance
Paperback & ebook, 272 pages
August 3rd 2015 by Whitaker House
Nell Holstrom wanted no part of her grandfather's barren gold mine that had taken the lives of her mother, father, and younger brother; even if there may still be hidden wealth inside. Instead, she went to Denver and took a job as housekeeper at the old Stone Hill Inn.
Asa Stone was barely more than a boy when his father dragged him and his brothers to fight with Colonel John Chivington. But Asa refused to participate in the raid on the peaceful Cheyenne and Arapahoe; and when the smoke cleared, his father and brother lay among the slaughtered. Besieged by guilt, Asa wandered the West for years before returning to Denver to rebuild the old inn he'd inherited.
Together, Nell and Asa work hard to restore Stone Hill. But when disaster hits the inn, Asa retreats into despair and Nell is forced to return to her family's mine. Asa faces the hard fact: He'll never be the man Nell deserves. Can he overcome the dark secrets of his past? And will Nell still love him when she learns the truth?
The First Book in the Series
Currency of the Heart
(Secrets on Sterling Street, #1)
by Loree Lough
Historical Romance
Paperback & ebook, 256 pages
January 1st 2015 by Whitaker House
Young widow Shaina Sterling hates living a lie. Desperate to keep bill collectors from the door, she secretly sells valuable possessions piece by piece, and hopes Denver's elite never discover that his lavish lifestyle left her a near pauper.
She's unaware that as her husband lay dying, successful rancher Sloan Remington made him a promise. And Sloan guards her secrets
as carefully as he looks after her safety.
When fire devours Sterling Hall, leaving her homeless and penniless, he brings her to Remington Ranch to manage his household. His kindness makes Shaina beholden to him … and threatens to expose the secret that could destroy him.
Will trials and tragedies bring Sloan and Shaina together?
Or will secrets—and the cost of exposing them—drive them apart forever?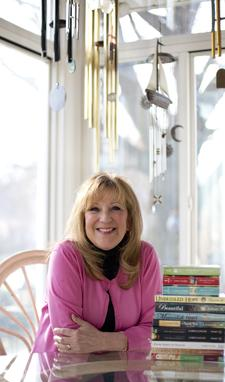 With 105 books (5,000,000+ copies in circulation!), best-selling author
Loree Lough's
stories have been compared to those by Nicholas Sparks, and she has been dubbed by readers and reviewers as "a gifted writer whose stories touch hearts and change lives."
With a long list of industry awards, it isn't likely this prolific author will ever retire...not even to her cozy li'l cabin in the Allegheny Mountains. She loves to hear from her readers and personally answers every letter sent to
http://www.loreelough.com/
.
Excerpt from Guardians Of The Heart
11:00 p.m., November 28, 1864

Near Fort Lyons, Colorado

Fourteen-year-old Asa pulled up the collar of his too-thin jacket and willed his teeth to stop chattering. Four months ago, he'd tried to talk his way out of joining the Colorado Volunteers, but he hadn't stood a chance against his big, determined pa. When he saw how much pain his father was willing to inflict on his three older brothers, he'd quietly pledged allegiance to Colonel John Chivington's Third Regiment.

Oh, what he wouldn't give to go back in time to the little house on the outskirts of Denver that always smelled of fresh-baked bread, where he'd never gone hungry and never felt cold, thanks to his ma's talent for turning scraps of cloth into warm quilts.

None of his fellow cavalrymen—nearly seven hundred in number—was complaining about the biting wind or the skin-stinging snow pellets. But then, they'd all been swigging whiskey since long before this latest march had begun. Some might have been drinking to stay warm, but Asa believed most of them were hoping a gutful of tangle-leg would dull any fears of becoming the next victim of Chivington's bloodlust.

About halfway into the seven-hour march, Asa overheard a handful of men whispering about the Treaty of Fort Laramie of '51, which had pretty much negated every promise the U.S. government had made to the tribes in the Treaty of Fort Wise. One man opined that Black Kettle, White Antelope, and other Cheyenne chiefs didn't trust the whites, but that, desperate to secure hunting lands for their starving people, they'd reluctantly agreed to winter near the south bend of Big Sandy Creek.

"I hear-tell them Ind'ans are all sick as dogs," one soldier said, "so they sent their healthiest bucks in search of food."

"Yep, I heard the same," a third man agreed. "Also heard Chivington say that'll make easy pickin's of them that's left."

"And he won't tolerate no excuses," added the first, "iffen any Ind'ans are still breathin' when it's over."

The words sent chills up Asa's spine, and he sought out his brothers to get their take on things. It surprised him when even Chester, the oldest and the toughest, looked just as scared and disgusted as Asa felt.

"They're all drunker than skunks," Asa whispered. "We could belly-crawl south awhile, then make a run for it. Why, I'll bet we could be halfway home before they even notice we're—"

His pa stepped out of the shadows, filled both his meaty fists with bunches of Asa's threadbare jacket, and lifted him off his feet. Nose to nose with his youngest son, Daniel hissed, "Desertion?"

Asa turned away to avoid his father's baleful glare, as well as his rank, boozy breath.

"Can't even look me in the eye, can you, coward?" he growled, turning Asa loose with a blow that sent him sprawling into the snow.

"You'll stand and fight, same as the rest of us, you hear me?" Daniel aimed a forefinger at Asa, then at three two brothers. "Same goes for you, and you, and you." He glanced over his shoulder, where a half dozen officers were orchestrating a line of artillery aimed at the all-quiet Indian camp. "You're lucky no one else heard you, or I'd-a had no choice but to shoot the lot of you, right where you stand."

Asa scrambled to his feet and deliberately stood apart from his brothers.

"They had nothing to do with it, Pa. I was just telling them what I heard the other men saying. Don't hardly seem right, sneaking up on the camp. The Indians are just doin' what the government told 'em to. Besides, they're sick, and it's just old folks, women, and young'uns, since most of the men are off huntin'—"

"Don't matter how old they are or whether they wear skirts or trousers. They're Injuns, you stupid boy. That's all the reason we need to kill 'em." Daniel took one step forward, and all four of his sons flinched. "I'll say this just once: Try to run, I'll put a bullet in you, myself."

Asa's mouth went dry, and he glanced at his brothers.

"Do you believe I'd do it?"

Chester took off his cap and ran a shaky hand through his dark waves of hair. "Yes, Pa. I do believe you would."

Duncan hung his head, and Edgar nodded.

Now Daniel aimed that fierce gaze at Asa. "And what about you, coward? Do you believe I'd shoot a deserter, even if he was my own son?"

"Yessir," he said, rubbing his still-throbbing jaw. "Ain't a doubt in my mind that you would."

For an instant, Asa got a glimpse of the man who'd patiently explained how to drive a nail with one strike of the hammer, the man who'd cried while burying the family dog. Where was that man now?

"Next time I see you boys, you'd better be belly-down in a rifle pit, aimin' your Springfields at them Injuns and shootin' like you mean it!"

The hours that followed seemed to Asa like a hazy nightmare; and when he came out of hiding the following afternoon, the air was heavy with the scent of gunpowder and blood. The war whoops and screams of women and children had fallen silent, but Asa knew nothing would quiet his memories of the guttural moans of the dying, some of them pleading with the murder-hungry soldiers to spare their lives.

He fought the urge to retch as, in search of his pa and brothers, he was forced to step over and around the scalps and entrails of slaughtered warriors. Then he saw Chester, down on his knees in the blood-soaked snow. He'd taken a round to the shoulder, but Asa knew instantly that it wasn't the injury that had painted the ferocious expression on his eldest brother's face.

"Look what you've done," Chester growled.

Edgar cradled their father's head in his lap. "You've killed Pa."

Anguish and fear roiled in his gut as he stared in slack-jawed shock at his father's lifeless body. But how could he have killed his pa, even by accident, when he hadn't joined them in the rifle pit? He hadn't aimed or fired a single shot.

"One more gun might have made the difference," Chester snarled, answering his unspoken question, "but you ran like a scared schoolgirl. Ran and hid behind a rock." He jerked a thumb over his shoulder. "And now, Pa and Duncan are both dead."

Duncan, too? Asa followed Chester's gaze and recognized the black and brown scarf—one of the last gifts made their mother had made for Duncan before she died—fluttering in the cold breeze.

A quaking started in his boots and quickly climbed all the way to his scalp, and Asa knew the temperature hadn't caused it.

In the next moment, his brothers pounced on him like wildcats, scratching and growling, kicking and hissing. But Asa didn't lift a finger to defend himself, because Chester and Edgar were right. He'd earned the beating. When they tired of pummeling him, the brothers stood, oblivious to the confused stares of cavalrymen milling nearby.

"Better get to crawlin' on outta here like the spineless snake you are," Edgar said. "If the colonel gets word that you deserted, he'll hang you, sure as you're standin' there."

"But not before he skins you, like he done them outlaws awhile back," Chester added.

The scene flashed in Asa's mind of those men—accused of robbing settlements, wagon trains, and banks—being rounded up and manacled, then butchered and left for the coyotes and vultures. In Chivington's twisted mind, they weren't worth the time or effort that would be required to bring them back to stand trial.

Asa had never known a fear that was more raw or real. Nor had he known such self-revulsion. Was Chester right? If he'd stayed and fought, could his participation have made the difference between life and death for his pa and Duncan?

Aching from head to toe, humiliated, cold, and more alone than he'd felt since his ma's passing, Asa started walking. He didn't stop until three days later, when he passed out from hunger, exposure, and exhaustion.

Tour Giveaway
$25 Amazon Gift Card
Print copy of Guardians of the Heart
Kindle copy of Guardians of the Heart
(to be gifted through Amazon)
Open internationally
Ends August 29th
a Rafflecopter giveaway