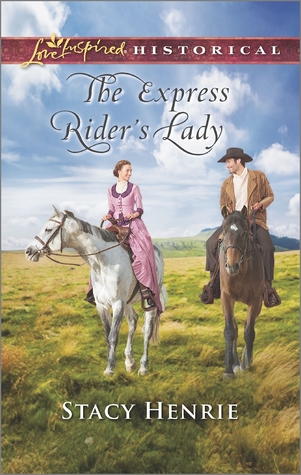 The Express Rider's Lady
by Stacy Henrie
Adult Christian Historical Romance Paperback & ebook,
288 pages February 9th 2016 by Love Inspired
Westward Wedding Journey
Delsie Radford is going to make it to California, no matter the danger or difficulty. Her father may have kept her and her sister apart, but Delsie refuses to miss her sister's wedding—even with only eighteen days to get there. And she's found the perfect escort in Pony Express rider Myles Patton. Myles can't believe it when a pretty socialite hires him to take her cross-country through rough terrain and dangerous territory. Surely she'll quit before they reach their destination—he's known girls like her before. But the longer they ride together, the more Myles notices Delsie's toughness and kindness beneath her polished exterior. And though they may be worlds apart…they might just be perfect for each other.
My Review

A truly sweet historical with some surprising twists and turns. I think this only the second or third Love Inspired Historical that I've read but all it took was the words "Pony Express" to hook me.

I very much enjoyed reading The Express Rider's Lady. It was so easy to like Delsie and Myles and to get involved in their story. I actually finished the story in pretty short order because I kept finding excuses to pick up my Kindle and sneak some reading time.

If you are looking for an exciting and romantic reading escape into the Old West days gone by, you should definitely check out Stacy Henrie's appealing story The Express Rider's Lady.

Tell Tale Book Reviews gives The Express Rider's Lady by Stacy Henrie a 3.5 Bark rating.

(I received an e-book copy through Prism Book Tours in exchange for my review. All opinions are entirely my own.)

Stacy Henrie
has always had a love for history, fiction, and chocolate. She earned her B.A. in public relations before turning her attentions to raising a family and writing inspirational historical romances. Wife of an entrepreneur husband and a mother to three, Stacy loves to live out history through her fictional characters. In addition to author, she is also a reader, a road trip enthusiast, and a novice interior decorator.
("Pony Express Map William Henry Jackson" by William Henry Jackson - Illustration: William Henry Jackson, American artist. Text: Howard Roscoe Driggs. Scan: US Library of CongressPhoto image obtained/rendered by Gwillhickers. Restoration by Crisco 1492. Licensed under Public Domain via
Commons
.)
Mapping out THE EXPRESS RIDER'S LADY
From the start I knew I wanted THE EXPRESS RIDER'S LADY to feature the Pony Express, but I also knew my hero and heroine couldn't ride from Missouri to California the same way the mail traveled. I needed another way to get them across the country. So I devised a plan to have them rest their horses every hour and a half, thereby averaging 100 miles a day. For food and lodging, for them and their horses, they would pay to stay at a different home station every night.

Next, I used a hard copy map, one which included the entire Pony Express trail on it, to mark where Delsie and Myles would be stopping each night. Not only did this help me know which home stations they would be lodging in, but I was also able to see which prominent settlements or landmarks they would pass by on a given day. All the stations mentioned in the book were actually used by the Pony Express.

Knowing what Myles and Delsie would ride past each day provided great material for different scenes in the book. Delsie has a run-in with trappers from Dobytown, near Fort Kearny in Nebraska. She and Myles both carve their names into Chimney Rock. And at Fort Bridger, Delsie receives a marriage proposal from an unexpected suitor.

Even today, one can drive most of the Pony Express trail, getting a taste and a feel for what these brave riders experienced on a daily basis from April 1860 to October 1861.
Tour Giveaway
$50 Amazon eGift Card (open internationally)
Print copy of The Express Rider's Lady (US only)
ebook of The Express Rider's Lady (open internationally)
Ends February 19th
a Rafflecopter giveaway